Design Guide and Engineer's Reference for Metal Belts
Our team of engineering experts have compiled this Design Guide to help address your design considerations and other questions about PureSteel® metal belts, that may benefit your automated assembly line or manufacturing application. The Design Guide offers design resources and other relevant information in the following areas: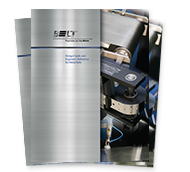 Why Consider Metal Belts for Your Application?

Stainless steel belts are often chosen for their durability, resistance to corrosion, smooth operation and more. Learn about the benefits of our PureSteel® products to uncover the ways they could improve your product throughput or quality.

Metal Belts and Drive Tapes

Metal belts are endless; drive tapes are open-ended. Learn more about the similarities and differences between the two, and the versatile applications of each.

Pulleys

Learn about our pulley types, ranging from more basic friction drive pulley, to timing pulleys. With an array of material types and other, enhanced features, there is a solution to meet your needs.

Surface Treatments

Teflon®. Hard Coat Anodization. These are just a few of our available surface treatment options. Learn more about coating, plating, laminating and bonding and how surface treatments can benefit material handling.

Design Considerations

Our machine design literature outlines best practices and design considerations for you to implement in your facility.

Belt Life

More durable than fabric, rubber or PVC alternatives, PureSteel® stainless steel belts are long-lasting and a sound choice for even the most demanding production operations.

Metal Belt Materials (Appendix)
We hope this information helps you understand the many benefits of metal belts and gives you the knowledge you need to specify metal belts with confidence.